TRAVEL
Plan the Best Jaipur Sightseeing Tour with Your Loved One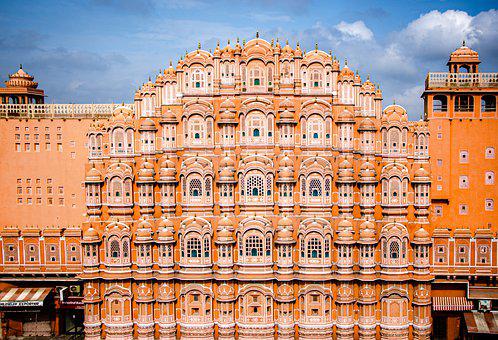 Introduction
Welcome to the enchanting city of Jaipur, where history and romance blend seamlessly together. If you're planning a sightseeing tour with your loved one, then you've come to the right place! Jaipur, also known as the Pink City, is a treasure trove of majestic palaces, vibrant bazaars, and awe-inspiring architecture. Whether you want to immerse yourself in rich cultural heritage or simply get lost in the old-world charm of its streets, Jaipur has something for everyone. In this blog post, we'll guide you on how to plan the best Jaipur sightseeing tour that will create memories to last a lifetime.
Planning for Best Jaipur Sightseeing Tour with Your Loved One
What to See in Jaipur?
Jaipur, also known as the Pink City, is a treasure trove of historical and cultural landmarks that will leave you awe-inspired. From majestic forts to intricately designed palaces, Jaipur offers a plethora of sights to explore.
One must-visit attraction in Jaipur is the iconic Amer Fort. Built with red sandstone and marble, this magnificent fort showcases the rich architectural heritage of Rajasthan. Be sure to take a guided tour inside the fort to discover its stunning halls, courtyards, and panoramic views.
Another must-see sight in Jaipur is the Hawa Mahal or Palace of Winds. This unique structure features an intricate facade with small windows adorned with latticework. It was built for royal women to observe street processions without being seen.
Don't miss out on exploring Jal Mahal, a beautiful palace located amidst Man Sagar Lake. Its stunning architecture surrounded by water creates a picturesque setting that's perfect for capturing memorable photographs.
For art enthusiasts, the Albert Hall Museum is a must-visit destination. It houses an impressive collection of artifacts including paintings, sculptures, costumes, and more – offering insights into Rajasthan's vibrant culture and history.
Last but not least important: to immerse yourself in the vibrant local markets of Jaipur such as Johari Bazaar and Bapu Bazaar where you can shop for traditional Rajasthani textiles like bandhani sarees and handcrafted jewelry.
With so much to see in Jaipur, make sure you plan your itinerary wisely to make the most out of your visit!
How to Get Around Jaipur?
Getting around Jaipur is relatively easy, thanks to its well-developed transportation system. One of the most popular ways to explore the city is by hiring a private car or using a taxi service. This gives you the flexibility to visit multiple attractions at your own pace.
If you prefer public transportation, Jaipur has an extensive bus network that covers most parts of the city. The buses are affordable and offer a convenient way to get around. However, they can be crowded during peak hours, so plan your journey accordingly.
For those who enjoy a more adventurous mode of transport, renting a scooter or motorcycle is an excellent option. It allows you to navigate through traffic quickly and explore hidden gems off the beaten path. Just make sure you have a valid driver's license and wear appropriate safety gear.
Another unique way to experience Jaipur is by taking an auto-rickshaw ride. These three-wheeled vehicles are iconic in Indian cities and provide an authentic local experience. Negotiate the fare before getting in and hold on tight as these rickshaws maneuver through bustling streets.
If you want to truly immerse yourself in the culture of Jaipur, consider taking a guided walking tour or cycling tour. This allows you to see the city up close while learning about its history from knowledgeable guides.
No matter which mode of transport you choose, getting around Jaipur is an adventure in itself! So buckle up (or hold on tight) and get ready for an unforgettable sightseeing experience in this vibrant city!
Where to Stay in Jaipur?
When planning a sightseeing tour in Jaipur, one of the crucial factors to consider is where to stay. Fortunately, Jaipur offers a wide range of accommodation options to suit every budget and preference.
For those seeking luxury and opulence, Jaipur boasts several heritage hotels that have been transformed from palaces and havelis into grand accommodations. These hotels not only provide comfortable rooms but also offer an immersive experience of Rajasthan's rich history and culture.
On the other hand, if you prefer a more budget-friendly option without compromising on comfort, there are numerous guesthouses and mid-range hotels available throughout the city. These establishments often provide clean rooms with basic facilities at affordable prices.
Another popular choice for accommodation in Jaipur is homestays. Staying with local families allows visitors to get firsthand insights into Rajasthani traditions and lifestyles while enjoying warm hospitality.
Additionally, Jaipur has seen the rise of boutique hotels in recent years. These smaller properties offer unique decor, personalized service, and a cozy atmosphere for guests looking for something different.
No matter where you choose to stay in Jaipur, it is advisable to book your accommodation well in advance as the city attracts tourists throughout the year. By doing so, you can ensure a hassle-free stay during your unforgettable sightseeing tour of this vibrant city!
Tips for Planning the Perfect Jaipur Sightseeing Tour
Research and Prioritize:
Before embarking on your Jaipur sightseeing tour, take some time to research the top attractions in the city. Make a list of places you don't want to miss and prioritize them based on your interests.
Plan Your Itinerary:
Once you have identified the must-visit spots, plan out your daily itinerary accordingly. Consider factors like distance between attractions, opening hours, and any special events or festivals taking place during your visit.
Hire a Local Guide:
To truly make the most of your sightseeing experience in Jaipur, consider hiring a local guide who can provide valuable insights about each attraction's history and significance.
Choose Reliable Transportation:
Getting around Jaipur can be challenging if you're not familiar with the city's layout. Opt for reliable transportation options like hiring a private car or booking a guided tour that includes transportation.
Dress Comfortably:
Since sightseeing often involves walking long distances under India's warm weather conditions, it is important to dress comfortably in lightweight clothing and comfortable footwear.
Stay Hydrated and Carry Snacks:
Exploring Jaipur's magnificent palaces and forts can be quite tiring, so remember to stay hydrated by carrying water bottles with you at all times. Additionally, pack some snacks to keep yourself energized throughout the day.
Respect Local Culture:
While visiting religious sites or interacting with locals during your tour, it is essential to respect their culture and traditions by dressing modestly and following any rules or customs in place.
Take Breaks & Enjoy Local Cuisine:
Don't forget to take short breaks during your sightseeing tour – savor traditional Rajasthani cuisine at local eateries or relax while enjoying a cup of masala chai from street vendors!
By keeping these tips in mind as you plan your Jaipur sightseeing tour, you'll ensure a memorable and hassle-free experience, immersing yourself in the rich history and
Conclusion
As you can see, planning the best Jaipur sightseeing tour with your loved one is an exciting and memorable experience. From exploring magnificent palaces to discovering vibrant markets, there is something for everyone in this enchanting city.
To make the most of your trip, consider booking a customized tour package with Four Wheel Drive India Pvt. Ltd. Their expert guides will ensure that you don't miss out on any of the must-see attractions while providing valuable insights into Jaipur's rich history and culture.
Remember to take advantage of local transportation options such as auto-rickshaws or taxis to navigate the city easily. And when it comes to accommodation, choose a hotel or guesthouse that suits your preferences and budget.
Keep in mind these essential tips for planning the perfect Jaipur sightseeing tour: research beforehand, prioritize your must-visit places, dress comfortably, stay hydrated throughout the day, and embrace the local cuisine.
With proper planning and enthusiasm, your trip to Jaipur will undoubtedly be an unforgettable journey filled with incredible sights and cherished moments shared with your loved ones. So pack your bags and get ready to explore this captivating destination!
Read more Travel Article Here!