BUSINESS
Choosing the Right Horse Float: Factors to Consider for Safe and Comfortable Equine Transport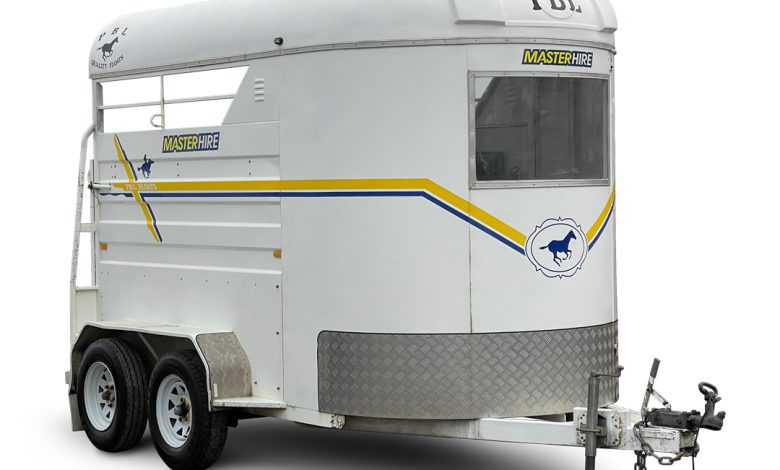 Are you looking for a horse float? If yes, you will know that it is easy to become frustrated when looking for a good one. There are many points to keep in mind if you want to get the right one. There are different variables that will influence your decision. You will need to keep in mind its space, size as well as how comfortable it is to travel. You also need to know if you want to get a new one or a used one. Look at the features it has and safety requirements for you, the vehicle as well as your equine cargo. 
The following gives you some tips on choosing a horse float that will provide you with safe and comfortable equine transport:
Material options
Horse trailers are usually made using a combination of materials. You need to keep in mind the composition of the new trailer as this will impact the weight of it, how usually you will have to pursue maintenance work on it, expense of maintenance, the cost of repairs, etc. 
The floor materials will even impact how comfortable the horses will be and how simple it will be to clean it. Common material options for a horse float include galvanized steel plus hot-dipped galvanized steel, aluminum, wood as well as plastics or fiberglass. 
New or pre-loved one
You should decide whether you want to get a new one or a pre-loved one. If you want to get a second-hand one, make a list of the must-have features as the designs of the float vary much. You can ask some horse owners to help you know what to consider when buying a float so that you can get the right one. 
If you are buying a second-hand horse float, it is better to personally know who the seller is. If you do not know the seller, you should establish the ownership status. The ones that are only a few years old, you can trace their history with the help of registration papers. You need to do this so that you can make sure that no encumbrance on the float is present. 
If you purchase the float from some dealer, this will eliminate this issue. You will have everything in writing if there is any problem. It may be better to test the float prior to buying it. Make certain that the lights work. Take some cable converter with you allowing you to test the plugs. 
Brake system features
The legal requirements for brakes differ depending upon the weight or ATM of the horse float. You can find two basic types i.e. hydraulic as well as electric. When looking at electric brakes that have a controller installed in the vehicle, these are the safest ones. 
The float should be equipped with independent brakes. The hydraulic braking system like the AL-KO iQ7 will halt the float when it gets unhitched from your vehicle. It can enhance stopping distance at the time that there is some emergency. 
The braking system tends to be a good investment. It may be a legal requirement in some places if the loaded weight of your float is above 2,000kg. You can find one with a separate parking brake that has been installed. 
Vehicle's towing capacity and suspension style
When looking at the vehicle which you plan to employ to tow the horse float, this should be legally capable of pulling the particular weight. You can look at the vehicle's handbook to check the ATM or Aggregate Trailer Mass. There are some manufacturers that will give the GTM or Gross Trailer Mass. You should keep in mind that these terms will not be interchangeable. GTM is always lower in comparison to the ATM. Also keep in mind the weight of the horses that you plan to transport. 
There are many suspension choices present to limit shaking as well as jolting which the horses have to experience. You can find rocker roller suspension, torsion suspension, and air suspension. Air suspension is a costly and superior choice. 
The interior float height
The height which you require inside the horse float will depend much on the horses which you will be transporting. Generally a minimum interior height that is of 2.2-2.3m is best. This will be higher than most ready-made floats. Look at the entry height. There are some floats that have a lip which needs horses to duck their heads when entering. 
Water dispensers are helpful as they are devices which are able to dispense cold, warm, or even normal room-temperature water. It is important to drink sufficient amounts of water daily if you want to remain hydrated and be healthy. If you have a job that involves you to work for long periods of time on a desk, you can consider getting a desk water dispenser. You will not need to often keep on going to fetch water to drink. There are a variety of desk water dispensers that you can find in the market. You must choose the right size one that will be able to fit comfortably on your desk. The desk water dispenser must also look good when it is placed on your desk. It should be able to provide you with the quantity of water that you require. You do not want to end up with one that is really small and makes you need to often get more water for it. The desk water dispenser should be made with good-quality material. Check to see if it is a detachable and portable one. It may be USB rechargeable. Choose one made with "safe material which will not harm your health in any way. 
When looking for a horse float, you need to keep many points in mind if you want to end up with the best one. It is better to do some research and know the features that you want so that you can get the one which will be best according to your needs. It should be safe to use as well.